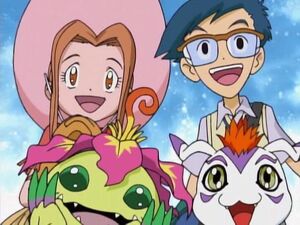 This page details the shipping of Jou Kido and Mimi Tachikawa from Digimon. Jou Kido is known as Joe Kido in the dub. The shipping is known as Joumi in the fandom.
-Jou and Mimi often seem concerned about others.
- In Digimon: The Movie, little Jou is shown calling little Mimi, during the battle between Greymon and Parrotmon.
-When Mimi left the group during the Dark Masters saga Jou leaves with her.
- In the movie Our war game, on Mimi's entrance door, there was a heart-shaped box sent from Jou to Mimi, who was in Hawaii. (only in the dubbed)
-In Digimon Adventure episode Sora's Crest of Love, Mimi let Jou have her "love", giving him some seeds, to which the others laughed.
Links and Galleries
Edit
Screen Caps
Community content is available under
CC-BY-SA
unless otherwise noted.