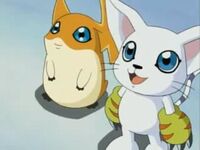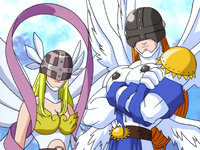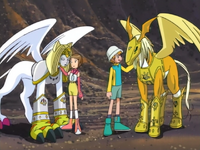 This page details the shipping of Patamon and Tailmon. Tailmon is known as Gatomon in the dub. This shipping is known as Patagato or Patatail in the fandom.
-Both evolve to into angelic Digimon (Angemon and Angewomon).
-Pegasmon (Pegasusmon) and Nefertimon have a joint attack: Sanctuary Bind (Golden Noose).
-Hang out with each other more then most of the other Digimon partners.
-They do a cute dance in Adventure 02 episode 22.
Links and Galleries
Edit
Screen Caps
Community content is available under
CC-BY-SA
unless otherwise noted.