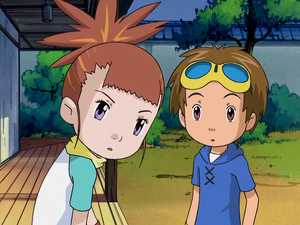 This page describes the shipping of Takato Matsuda and Ruki Makino from Digimon. They are known as Takato Matsuki and Rika Nonaka respectively in the dub. This shipping is known as Rukato and Taruki in the fandom.
-The phone conversation between the two in the movie "Digimon Tamers: The Runaway Digimon Express" ("Digimon Tamers: Runaway Locomon" in the dub).
Links and Galleries
Edit
Screen Caps
Community content is available under
CC-BY-SA
unless otherwise noted.